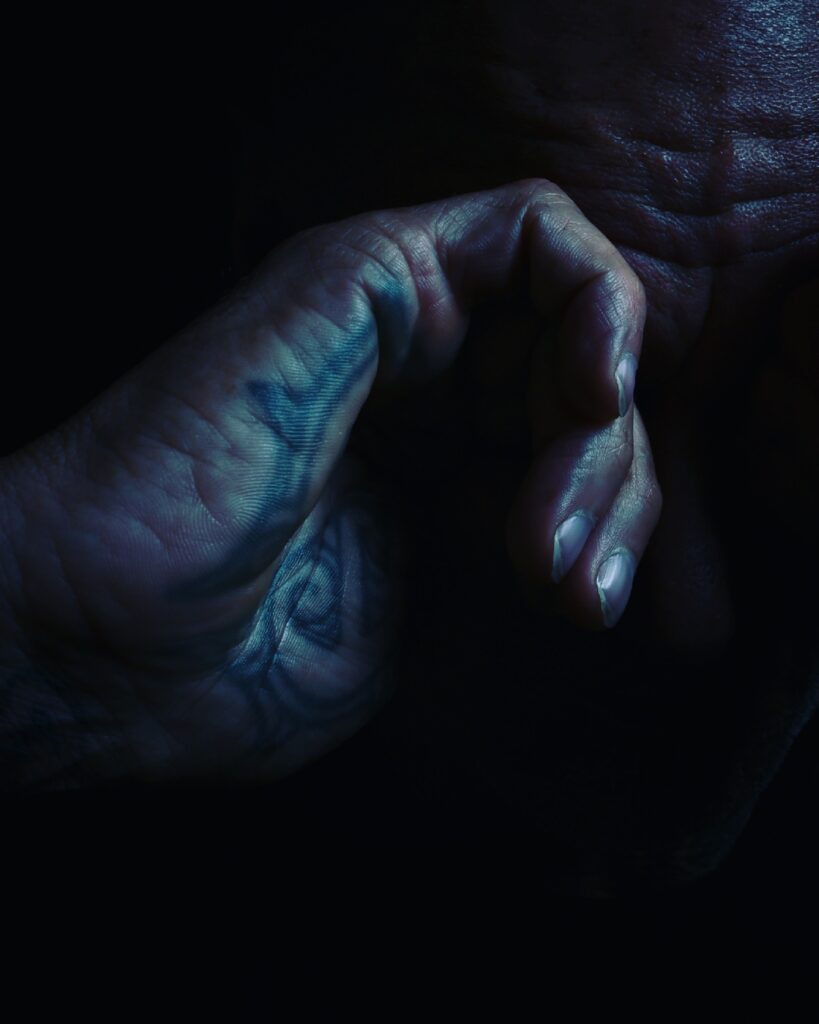 THERE IS A FREEDOM IN BEING ABLE TO EXPRESS ONESELF. FOR ME IT IS MY IMAGERY, MY WRITTEN THOUGHTS, MY POETRY….IT TAKES MANY FORMS BUT ALL ARE EQUALLY CRUCIAL OUTLETS FOR MY INNER SELF AND ANGST. THESE THINGS ARE VERY IMPORTANT TO ME AND I RECOGNISE THEY PLAY A MAJOR PART IN MY NOT INTERNALISING EVERYTHING, WHICH I TEND TO DO IN MY TIMES OF STRUGGLE.
HOWEVER, THE THING I FIND TO BE THE MOST BENEFICIAL IS SIMPLY TO SIT IN THE PRESENCE OF SOMEONE  WHO HAS TIME FOR ME. YESTERDAY STARTED WITH IT'S OWN CHALLENGES, I WOKE WITH A FEELING OF DESPAIR. I WAS WORRIED ABOUT A NUMBER OF THINGS AND HOW THEY WOULD PLAY OUT, I WAS BECOMING OVERWHELMED BY IT ALL AND IN THE SOLITUDE I HAD CREATED AROUND ME THE FEELINGS WERE GROWING AND STARTING TO SLIP FROM MY CONTROL. THIS IS THE DANGER AREA FOR ME WHERE MY MIND CAN TAKE OVER AND I DECLINE INTO A DARK AND LOATHSOME PLACE. I REACHED OUT TO SOMEONE WHO HAD EXTENDED A HAND, OFFERED THEIR TIME. WE SHARED FOR HOURS AND IN THAT TIME I WAS ABLE TO SEE SOME LIGHT, I DREW SOME CONFIDENCE FROM THIS PERSON AND THEY GAVE ME CONSTRUCTIVE FEEDBACK, SUPPORT AND MOST IMPORTANTLY, THEY LISTENED AND IN THIS INSTANCE THAT IS ALL I NEEDED, JUST A SOUNDING BOARD.
IT IS IMPORTANT WE TRY OUR BEST TO UNDERSTAND WHAT THE HELP LOOKS LIKE THAT WE NEED, FOR SOME IT MIGHT BE ADVICE, OTHERS MIGHT JUST NEED QUIET AND A HUG, ANOTHER MIGHT WANT TO VENT WHILE YET ANOTHER MIGHT WANT TO CRY IT ALL OUT ON SOMEONES SHOULDER. IT IS ALSO IMPORTANT THAT WE MAKE THE MOST OF THE OPPORTUNITIES WE ARE GIVEN. I TEND TO BECOME SECLUDED AND RECLUSIVE IN MY TIMES OF STRUGGLE, I KNOW THAT THIS BEHAVIOUR COMPOUNDS THE SITUATION FOR ME. A LARGE PART OF ME WAS RESISTANT TO MEETING UP, I KIND OF WANTED TO LOCK MYSELF AWAY FOR THE DAY BUT THE RIGHT CHOICE WAS TO GET OUT, IT CHANGED THE FEEL OF THE DAY DRAMATICALLY, FROM BLACK TO BROWN, NOT A 180 DEGREE SHIFT BUT CONSIDERABLY BETTER THAN IT STARTED. AT THOSE TIMES WHERE I JUST CANT FACE ANYONE (THERE ARE PLENTY OF THOSE) I WILL SOMETIMES JUST WALK, JUST GET SOME AIR AND SOME EXERCISE.
THE POINT BEING IS THAT IF YOU ARE ANYTHING LIKE ME AND YOUR GO-TO ACTION WHEN YOUR MENTAL HEALTH HAS DECLINED IS TO PULL A BLANKET OVER YOUR HEAD…LET ME FIRST OFF SAY, I UNDERSTAND…NOW LET ME MAKE ANOTHER SUGGESTION, TAKE THAT OFFER UP OF A COFFEE, A STROLL, DINNER, A SHOULDER, AN EAR…AND IF YOU CANT BRING YOURSELF TO INTERACT, JUST WALK AND LET YOUR MIND REST A LITTLE WHILE.
I HAVE HAD PEOPLE AROUND ME OFFER THEIR TIME,  WITH SOME I WILL TAKE UP THE OFFER, SOME I WONT BUT IT IS NICE TO KNOW I DONT REALLY HAVE TO DO EVERYTHING ALONE. SOME DAYS I WILL JUST PULL THE BLANKET UP BUT WITH HELP I HOPE TO SEE THOSE DAYS FADE TO LESS.